The annual World Summit on the Information Society Forum is a global multistakeholder platform facilitating the implementation of the WSIS Action Lines for advancing sustainable development, organized by ITU, UNESCO, UNDP and UNCTAD, in close collaboration with all WSIS Action Line co-facilitators and other UN organizations. It provides an opportunity for information exchange, knowledge creation and sharing of best practices, while identifying emerging trends and fostering partnerships, taking into account the evolving Information and Knowledge Societies. 
The WSIS Forum launched in March 2023, and has continued with virtual sessions throughout April and May. On May 26th, the Broadband Commission hosted a session titled "The Transformative Potential of Data for Learning". The session was moderated by Dr. Borhene Chakroun, Director, Division for Policies and Lifelong Learning Systems at UNESCO and Broadband Commission Working Group on Data for Learning Chair and hosted panelists representing Commissioners and experts from the Working Group. 
Dr. Chakroun opened the session by posing three questions to each panelist, challenging them to provide perspective and examples from their sectoral experience:
Hopes: In your vision of an ideal education system, what does equitable, safe, effective use of learner data look like? 
Fears: What is your greatest fear about data for learning misuse, and perhaps, how have you seen this fear play out in real life?  
Action: What do you predict will be the greatest barrier we will need to overcome to ensure that the use of learner data can directly benefit teachers and learners? What safeguards need to be in place before learner data can be used safely and effectively to improve educational experiences?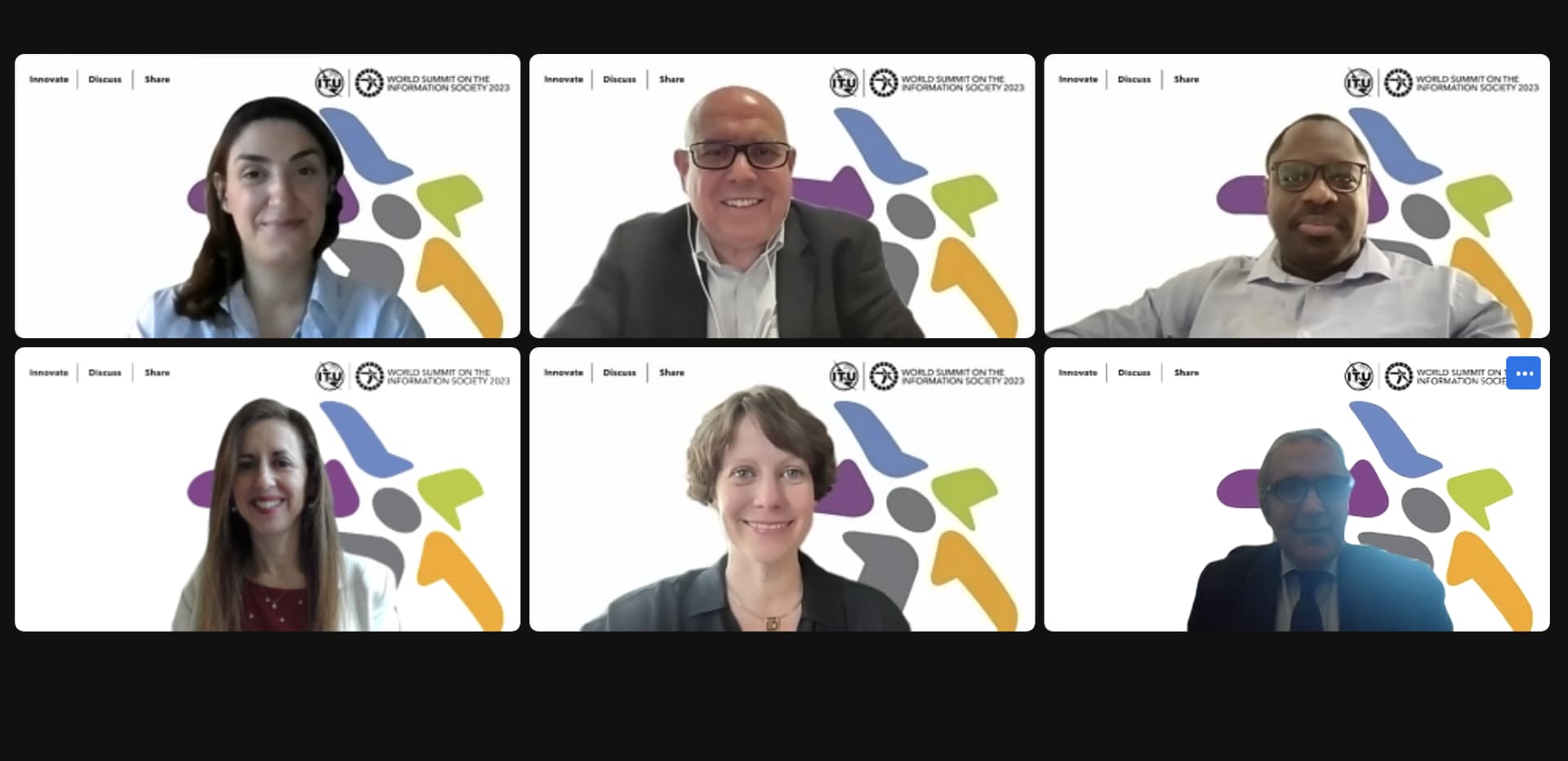 Ms. Beth Havinga

, Founder and Managing Director of the European Edtech Alliance and Working Group External Expert, opened the discussion by focusing on the importance of equity in education and meaningful learning opportunities, noting that taking into account the different environments and resources of each education ecosystem is essential to ensuring meaningful and equitable learning experiences.

Dr. Zohra Yermeche

, Program Director, Sustainability and Corporate Responsibility at Ericsson and Focal Point to

Commissioner Erik Ekudden

, presented data for learning as a means to improve learning experiences. She shared Ericsson's view of the link between data for learning and skills, describing it as oxygen, vital but not visible and explained how data can help tell the story of this connection. She further

emphasized that education ecosystems should go beyond connecting users to content and instead focus on the ability to customize learning experiences for

 individuals and measure progress to inform their next steps. As an example, she presented Ericsson's internal skill shift measurements and data collection to improve employee performance.

 

Mr. Calvain Nangue

, Strategic Advisor – ICT Skills and SADA Sustainability Digital Infrastructure, Skills and Empowerment Directorate at Smart Africa joined the panel representing

Commissioner

Mr. Lacina Kone

, DG of Smart Africa. He began his intervention by

highlighting

that the development of new learner content should address the need of those we have previously excluded due to lack of data. He added that the use of data increased due to the COVID pandemic not only to measure the progress lost during the quarantine but also to identify any gaps in the education system that can now be addressed through the use of digital tools.

Mr. Alexandre Barbosa

, Head of the Regional Center for Studies on the Development of the Information Society, Brazil and external expert to the Working Group on Data for Learning, outlined the key features needed for an educational system designed for purpose: (1) privacy and consent (2) data security (3) data anonymization (4) data governance. He revealed that a study in Brazil showed that schools were using social media platforms for educational purposes, rather than education platforms, allowing companies to gather and utilize learner data rather than schools and educators.

Ms. Giuseppina Curreli

, Director of Political Relations and Education Programs at Millicom, spoke on behalf of

Commissioner Mauricio Ramos

, contributing the perspective of a telecom operator with a focus on digital inclusion. She remarked on how insights given from data and be used to personalize educational experiences and inform decision-making for the benefit of the learners, teachers and administrators. She went on to outline how data will help us to define and acknowledge the contextual differences across global educational systems.

 
Speakers were aligned on their fears of the misuse of data, focusing on data privacy and ownership, the need to align the interest of commercial players with the common good, potential algorithmic biases and their impact on data and its use, and data and media literacy and capacity training to prevent users from being misinformed and misled.
The session closed by discussing the necessary actions for ensuring an inclusive and safe use of data for learning ecosystems, including:
DIGITAL SKILLS DEVELOPMENT: Prioritizing digital literacy, skills, and media literacy is crucial, exemplified by initiatives like Maestras Conectadas. In addition to this, there is the need to educate and capacitate teachers in hybrid classrooms and upskill decision-makers and policymakers on emerging technologies.


COMMON FRAMEWORKS: There is a need to establish common language guidelines to support countries in building governance structures and frameworks and Standardization is needed to manage interoperability, integration, visibility, flexibility, and governance around data for learning.


UNIVERSAL CONNECTIVITY: Ongoing efforts must be made to bridge the gap in access to technology and ensure that all individuals can participate fully in digital learning ecosystems and ensure that data is equitably gathered and safely utilized to protect and enable learners.


MULTISTAKEHOLDER ACTION: Multistakeholder cooperation for transparency, accountability, and perspective, in the form of dialogue and collaborative action is fundamental to ensure the proper use of data for learning.