Working Group Co-Chaired by:
Digital and Data Can Transform Health Systems:

Data and digital technology offer health systems an unprecedented ​opportunity to transform and redesign from being reactive to become preventative and predictive, and enable them to deliver coordinated care and prevention throughout the life journey of the people they serve. To achieve that, digital technology must become an integral part of every health system, because it is as essential as hospital beds are.
The availability of massive quantities of data and clo​ud computing, now enable the use of Artificial Intelligence throughout all aspects of our lives, including health. The use of machine learning and natural language processing can make health systems more efficient and potentially overcome several of their weaknesses, including those related to the shortage of health professionals. ​
The Working Group on Data, Digital, and AI in Health ​is the 3rd work-stream of the Commission around the theme of digital health, proposed with the vision of generating knowledge on successes, challenges, and learnings from AI solutions in health. The group aims to raise awareness about how data can be transformative for our health systems by proposing practical recommendations and case studies on AI in global health for use and further validation. This can support health professionals and engineers who are working together to solve the most pressing health priorities in different contexts.
Stakeholder groups that can be interested in this work are policy makers, regulators, academics, clinicians, patients, civil society, private companies, entrepreneurs, donors, NGOs or others who want to further explore the potential of AI in health and learn from insights on its development and implementation.
The report will, in principle, focus on LMICs but may bring forth case studies and examples from high-income countries (HICs). We certainly expect that innovative approaches from LMICs can be of interest and applicable to HICs. 
The group was launched in April 2019 during the Broadband Commission's Annual Spring Meeting.
The Group held it's​ kick off call on 21 September 2019 in NYC.​​​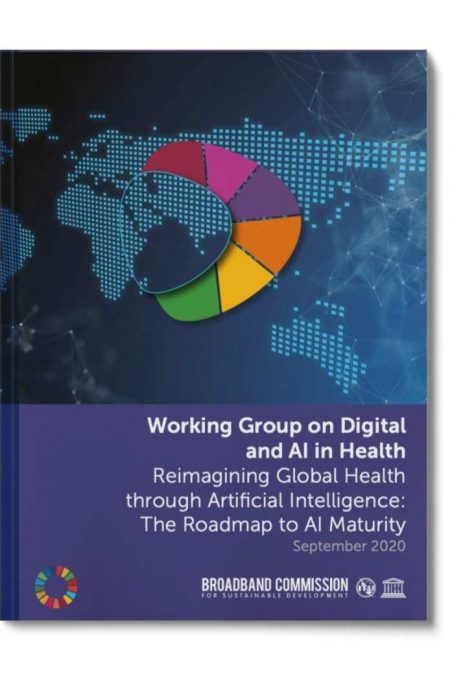 Reimagining Global Health through Artificial Intelligence
The Roadmap to AI Maturity
The report holds that while low- and middleincome countries may have the most to gain from the radical potential of Artificial Intelligence (AI) to transform health systems, they may also have the most to lose.
Co-chairs: Dr Ann Aerts, The Novartis Foundation and Mr Paul Mitchell, Microsoft
Bocar Ba, Samena Telecommunications Council
Kevin Martn, Facebook
Carlos Jarque, America Movil
Hans Vestberg, Verizon
Stella Ndabeni-Abrahams, South Africa
Dato Ir. Lee Yee Cheong, Malaysia
Baroness Beeban Kidron, 5Rights
Fekitamoeloa Utoikamanu, UN-OHRLLS
Amir Dossal, Global Partnerships
Tedros Adhanom Ghebreyesus, WHO
Henrietta Fore, UNICEF
Robert Kirkpatrick, UN Global Pulse
Amani Abou-Zeid, African Union
Makhtar Diop, The World Bank
ITU
PATH
AeHIN
IntraHealth
Geneva Graduate Institute
Accenture
Bill & Melinda Gates Foundation
Columbia University Mailman School of Public Health
MIT Media Lab
AI4Health Focus Group ITU/ WHO
AdaHealth
USAID
Rockfeller Foundation
Massachusetts Institute of Technology